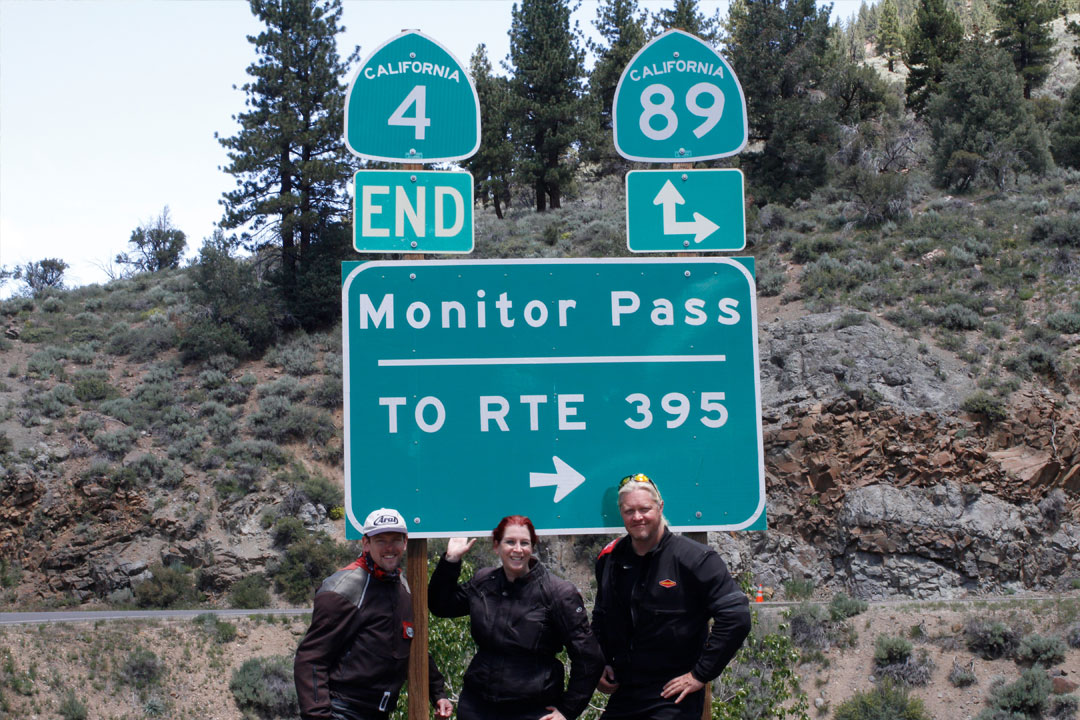 "The Passes are Open!"
California has two major mountain ranges. There are 1000s of miles of great riding so the High Sierra Mountain Passes are something special. These are very empty regions, so take Leod Escapes tips on lunch and particularly fuel seriously. Also, some of these roads are very lightly traveled so stay safe because you are a long way from help.
When? These are high mountain passes that get covered in snow during the winter and only start opening up in mid-May to early June, and close when first snow falls. To see the pass closure history and check current status CLICK HERE.
How? These great passes are covered in Leod Escapes "California Curvin" and "California Curvin to Laguna Seca" Tour. Custom tours that match your desires are easily created.
Which are the top motorcycling passes and why?
Carson Pass – 8,574 ft (2,613m) California Hwy 88. This is a great smooth scenic run with lots of sweepers that is good for beginning riders as it is the easiest pass technically and has low levels of traffic.
Tioga Pass – 9,943ft (3,031m) California Hwy 120. This is a beautiful pass road but heavily trafficked by Yosemite visitors and also heavily patrolled by park rangers. Enjoy the views but don't expect to enjoy much sport riding. It's a good road to relax on if you've had a full day and just want to take in the sites and don't mind some RV traffic.
Sonora Pass – 9,624 ft (2,933m) California Hwy 108. This is the intermediate pass in terms of technical riding. There are some challenging bits here and there but on the whole this pass has something that will please everyone. Incredible views, wide ranges of curve types and low levels of traffic. Be particularly aware of gravel and sand on the insides of right hand turns where the local pickup trucks drop a wheel off the road.
Ebbetts Pass – 8,736ft (2,663m) California Hwy 4. This is the advanced pass. It has some European style switchbacks, it goes down to one lane and the top and has some crazy undulations between the rocks. For advanced riders this road is an absolute winner. It's also the least trafficked mountain pass in the Sierras. Enjoy!
Monitor Pass – 8,314ft (2,534m) California Hwy 89. Monitor is the "Bonus Pass". Chances are, if you are riding Monitor, you've already been having a great day riding one of the other three passes. Monitor features medium sized curves and wide open sweepers on both sides culminating in an alpine meadow at the top. Beginning riders will feel a tad intimidated but they can do it, Intermediate and Advanced riders will be tempted to throttle on, as this road feels like race course. Amazing views and surprisingly good pavement. It's usually the cherry on top of your wonderful day in the High Sierras.
In
BMW Motorcycle Rental, California Curves to Laguna Seca, California High Sierras, California motorcycle routes, California Superbike School, California's best motorcycle roads, Ducati Motorcycle Rental, Eagle Rider San Francisco, Ebbetts Pass, GPS, GPS Guided Motorcycle Tour, Great Motorcycle Roads in California, Keith Code, Laguna Seca, Laguna Seca track day, Laguna Seca Track Time, Monitor Pass, Motorbike Holidays, Motorbike Travel, Motorcycle Rental San Francisco, Motorcycle Tours, Motorcycle Track Day, Self Guided Motorcycle Tour, Sonora Pass, Sport Touring, T301, T302, T303, T408, tips and tales